---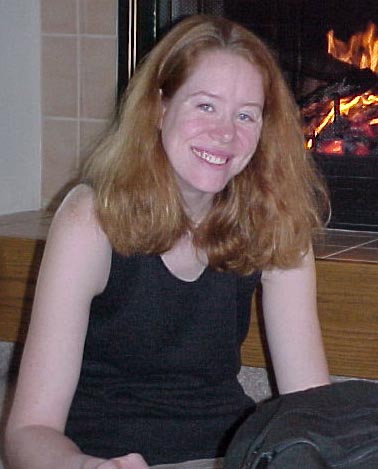 Maggi, December 1999
Here's some general stuff about me (last updated January 2004):
I'm a children's librarian in Ann Arbor, MI.

I received a microbiology degree from Michigan State University, and an Information Science degree at the University of Michigan. I took classes for teacher certification at Eastern Michigan University.

My boyfriend Tom and I live together in Okemos.

I belong to Touchstone Cohousing in Ann Arbor. We hope to begin building within the year.

I have a cat, Cassie, who is currently living with my ex-husband.

I study genealogy on the following surnames from Erie and Dutchess Counties in New York state: ROHDE, STOCK, BUGMANN, STAHL, STRADTMANN, O'BRIEN, KOEHLER.

I have four tattoos: I had the great good fortune to have three of my tattoos (the knot, the rainbow bracelet and the first part of the flower vine) done by Suzanne Fauser, who died on February 10, 2001. Her apprentice and fine tattoo artist in her own right, Miz Jo-D at Ink for Life in Ypsilanti, did the remaining work on the flower vine. Crow Swimsaway of the Church of Earth Healing did the tower tattoo.
(Maybe one of these days I'll write the story of why I got my tattoos.)

I read a lot. My genre of choice is fantasy, though I also read some science fiction and horror. Some of my favorite authors include Douglas Adams, Elizabeth Moon, Robin Hobb, Orson Scott Card, Lois McMaster Bujold, Sharon Lee and Steve Miller, Mercedes Lackey and Steven King. (Out of necessity, I read many children's books, but luckily I enjoy them too.)

I write sometimes. I even occasionally finish a story. I like stories with elements of reality and fantasy. Here are some examples of my finished work:

I draw sometimes. Here's a dragon, drawn with a mouse and SuperPaint on a Mac IIsi sometime in the late 80's. I also draw with pen and ink. Here's another dragon from 1989 - and yet another dragon, drawn in the early 90's, that Devon let me scan in on his scanner. (No, I don't just draw dragons, it's just all I had on hand.)

I make music sometimes. Once upon a time I was a voice performance major at Michigan State University. Now I sing only for love and for fun. In high school, I sang with an a capella quintet called Perfect Fifth, which was tres groovey. I also used to play French horn before I broke my jaw, and piano before I lost my motivation (if anyone finds it, please return it to me). I intend to learn the guitar, the bodhran and the tin whistle. I also have a lovely Celtic harp, made by Dreamsinger Harps, waiting for me when I have time to learn to play it.

I listen to music, too. Mostly it's folk music. Some of my favorite folksingers are the Indigo Girls, Eddie From Ohio, Cheryl Wheeler, Kristen Hall, Stan Rogers, among many, many others. I also like funny music, like Weird Al Yankovic, Ookla the Mok, The Arrogant Worms and They Might Be Giants.

When I was a kid, I collected My Little Pony dolls.

I watch cartoons. My favorite is a big blue fella named The Tick, about whom I used to have my own web site (in 1993, when the web was young). It got too big and complicated to maintain, so I scrapped the site and moved on, but there are plenty of great Tick pages out there. I also like the Animaniacs (especially Pinky and the Brain).
You can reach me at: maggi@intranet.org