Last updated 29 November 2006.
---
Sky Climber's
Epitaph to a Pony Collection
Click on photo for a larger picture.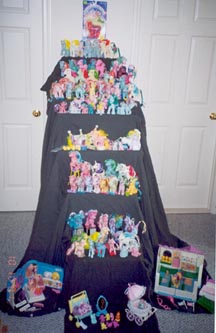 Welcome to a memorial shrine for my collection of My Little Ponies. I began collecting in 1983. In 2002, I sold them all. I wanted a record of the ponies to keep their memory alive... so here it is.
Update: In 2006, I began collecting G3 ponies again. I'll have pics someday.
---
You can find here:
[ MLP Trading Post || Dream Valley || G3MLP || Ponytopia || MLP Arena ]
---
Email me