Motorcycling, one of my latest passions...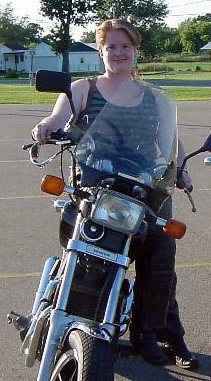 Why do I ride?
It's a difficult question for me to answer, as most of it can't be translated into words well.

I ride...
because of the freedom and how it feels, like being a hawk flying low over the ground, yet being intimately connected with the ground.
because I like the aesthetic of it.
because after witnessing my friends riding for a few years, I realized that not all crashes end in death or dismemberment, and a lot can be walked away from.
because it reminds me of my own fragile nature as a human, and brings me closer to understanding my mortality, and the value of the experience of each day.
because I can.
because I can feel the power.
because it doesn't come easy to me, and humbles me.
because it challenges, scares, and attracts me.
That last one is probably the most relevant one - I have a long history of these push/pull relationships with things that are simultaneously terrifying and seductively attractive. Part of it is wanting to conquer the fear, and part of is the very seductiveness of the fear and risk. Like learning to dance on the razor's edge, graceful and in control, yet being deeply aware of the fragility of the balance.
It's also something I've struggled with - I've taken the MSF (Motorcycle Safety Foundation) class twice now (update 6/02 - make that three times, and the ERC is coming up!), and failed both times (make that the first 2 times) - the first, on the first of two skills test, and the second time, on the second. It's made me think harder about how much it's worth it to me to do this, and has given me even more determination.
At the same time, I'm still in the "reckoning with the risks" phase, and listening wide-eyed to many tales of crashes. Doing my best to not be a statistic, though, by taking the MSF class, reading up on technique (I highly recommend David Hough's Proficient Motorcycling).
~~~~~~~~~~
Musings of Early August...
August 11, 2001 The crash has recently made me re-think a lot of this, and question whether I've really any business riding a bike. Reading this article (copyright by The Master Strategy Group) I found on MSG's Motorcycle Tips and Techniques site sort of reinforced this; I am, at times, terrified of motorcycling, and trying to decide whether or not to repair the bike has been in large part overshadowed by the meta-question of whether I want to ride again. On other times, like last night, when the evening was cool and crisp, and the western sky was just beginning to glow with the sunset, I burn with wanting to ride. If it hadn't been for my still-messed-up clutch hand, I'd have taken her out for at least a spin around the block.

~~~~~~~~~~
Getting my Endorsement - prelude to disaster?
July 15, 2001 And the good news is that I've finally gotten my endorsement! The third time around, I took the Performance Based class, which is basically the MSF Basic Rider Course taught on your own bike, and at a faster, 1 day pace, and - almost unbelievably, to me - I passed. So I've been enjoying riding on my own and continuing to develop my skills, something I hope will be a lifelong venture. I made my first tentative steps out onto the expressway with the help of an encouraging friend (thanks, Ken; I probably wouldn't have had the courage to do it on my own)... okay, not *too* tentative - I was up to 85mph before I knew it, and had to work to slow down. Something about being surrounded by 18-wheelers makes me a tad nervous, and I'm finding that my tendency in that situation is to just go faster. ;)

~~~~~~~~~~
More Musings...
On...
5/29/02 (Darkangel Rides Again!), and ...
6/21/02 Summer Solstice - Bwah hah hah hah hah! Hee hee! (call the funny farm) - I'm taking out the engine!
6/22/02 - The Heart of Darkangel - the engine comes out, and heads come off (in the wrong order).
7/11/02 - A Tale of Two Trips, a funeral and a wedding, in the 7/10/02 8:10pm posting in my LiveJournal. I'll probably copy it over here, but for now, you can see it there.
7/12/02 - Hope da Expert Valve Lapper (well, not quite) - the head nears readiness, and I may actually have a working bike sometime soon!
Oh, I'm also officially a 'w(r)ench' now, at least so sez David and Doug from Corsa.
8/18/02 - The Road to Devereaux (well, not quite) - I've decided to just start using my LiveJournal for my ride reports, so you can see this one here - or - the annotated version, including photos, on this site.
You'll also find a lot of related musings on my LiveJournal page, interspersed with other ramblings.

Ride Reports
Musings on 8/1/016 - Well, since I've been grounded by the crash, I've been more active in writing, mostly about the crash. I finally finished the (long!) crash trip report, and got my photo site ... now I just need to get the blasted bike working (oh, and my clutch hand healed) so I can get out and ride and avoid aggravating my repetitive strain injury any more. ;)
My '83 VT500C, 'Darkangel'
Here's a page of photos of my bike, an '83 Honda Shadow VT500C, 'Darkangel.' Oh, and there's also some modified maps (courtesy of MapQuest) showing the exact location of the crash, some photos of the new fuel tank and head pipes I bought on e-bay - although for more than I'd hoped to spend, and an amusing diagram of the crash, courtesy of the Brighton state trooper who was nice enough not to give me a ticket.

Here's another page with photos of me taking my engine out and dismantling the heads.

(Am I obsessed? No.... not in the least...)
Links
~ Hope

Published by Hope, shadowriderhope@gmail.com
and Flaming Paisley Productions, inc.
http://home.intranet.org/~hope